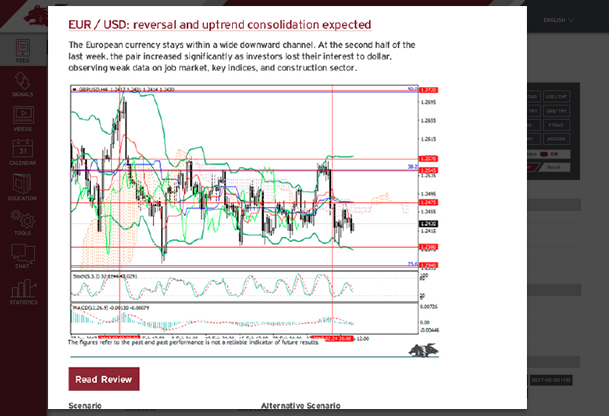 Often, traders, regardless of their experience and knowledge, need a confirmative signal to achieve success in their trades. ''How do I find the best entry point? When should I exit a trade?''. These doubts, generally, result in low trading activity and financial losses.
Every day, our professional team monitors the global political and economic situation, analyzes technical indicators, patterns and figures of trend continuation or reversal. Based on this data, Claws & Horns experts highlight entry and exit points, key support and resistance levels. Thus, your clients can confirm they are trading in the right direction, increasing your trading volumes.
Scenario refers to steps a trader can take in a certain market situation.
Alternative scenario refers to steps a trader can take in a market situation that differ from the ones described in "Scenario".
Trading tips advise whether short or long positions should be opened.
Entry point is where an order should be placed.
Take Profit is where the take-profit level should be set.
Stop Loss is where the stop-loss level should be set.
land.Key levels are different price levels (support, resistance etc.) which are relevant for a specific scenario.